Main content starts here, tab to start navigating
Pints for Non-Profit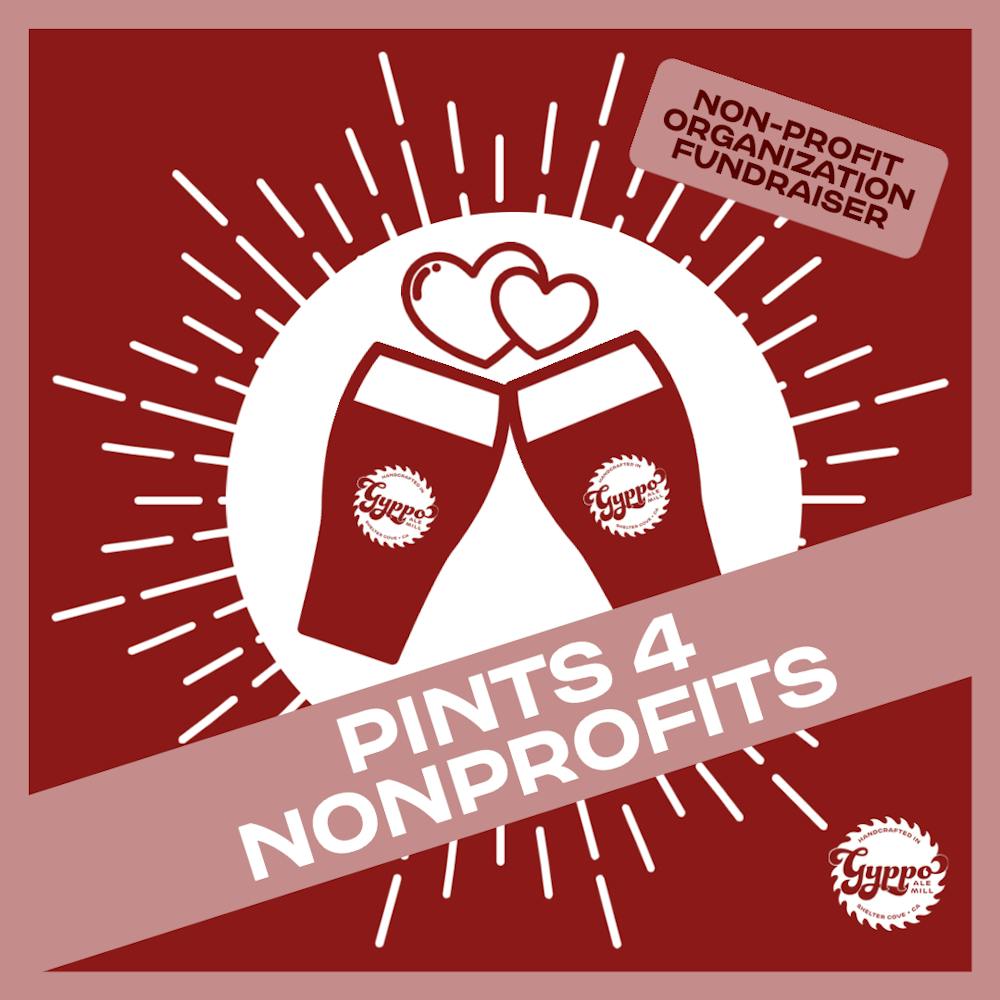 Every second Friday of the month, the Gyppo Ale Mill welcomes one local nonprofit to host their Pints 4 Nonprofits Event. During this event, Gyppo donates $1 for every beer purchased between a two-hour slot, either 4-6 pm in the winter or 5-7 pm in the summer, to a chosen local non-profit organization.

Additionally, Gyppo gives a $60 gift certificate to auction off to guests during the event to squeak out a little more fun and funds! Non-profit organizations are welcome to book their own bands in order to have the most draw for the event. Past Organizations that have participated, raised money, and are welcome to apply again are:
Friends Of Whitethorn School
Humboldt Community Access & Resource Center
Friends Of The Lost
Shelter Cove Arts & Recreation Foundation
Southern Humboldt Community Park
Sohum Health
Wild Souls Ranch
Briceland Volunteer Fire Department
Cape Mendocino Lighthouse
Recycled Youth
Humboldt Spay & Neuter Network
Whale Gulch School
Garberville Volunteer Fire Department
The goal of Pints 4 Nonprofits is to raise money but most importantly raise awareness of your organization of the amazing things you do for our community.

We would absolutely love to get your non-profit onto our event calendar. Please download the below application form and email it back to family@gyppo.com. We will be in contact with you to discuss the details.
Ocean Friendly
ENVRIONMENTLLY SUSTAINABLE RESTURANT & BREWERY
Gyppo Ale Mill is accountable for our partnership with our environment. From the products and methods we use to the design of the restaurant the brewery caters to be ocean friendly. Gyppo Ale Mill looks at long term effects of the minuscule choices we all make in life to contribute to the bigger picture to better the environment. We have created a company that is environmentally sustainable. We are the only Surfrider certified restaurant and brewery in Southern Humboldt. We are sure to follow Surfrider foundation lead to be environmentally sustainable. We use stainless steal straws, all to-go packaging contains no plastic, and we even have bamboo to-go utensils! These are a few of our practices as we continue to learn and contribute to do our part.
Find out more about Surfrider Restaurants here.